As many of us know, the LRC is filled with books on all subjects for all majors. We are always able to find a book on Greek vases or how kids react to a divorce, but what about when you just want to kick back with a good novel? We get this question regularly, and the answer is quite simple. We offer a ton of novels in our PS and PR sections. We also have lots of young adult books in the Juvenile section that are very good for light reading.  Here are a few that I've pulled off the shelf as examples.
Carrie by Stephen King (PS 3561 I483 C37)
Stephen King's legendary debut novel about a teenage outcast and the revenge she enacts on her classmates. The story of misfit high-school girl, Carrie White, who gradually discovers that she has telekinetic powers. Repressed by a religious mother and tormented by her peers at school, her efforts to fit in lead to a dramatic confrontation during the senior prom.
C by Tom McCarthy(PR 6113 C369 C3 2010)
Opening in England at the turn of the twentieth century, C is the story of a boy named Serge Carrefax, whose father spends his time experimenting with wireless communication while running a school for deaf children. Serge grows up amid the noise and silence with his brilliant but troubled older sister, Sophie: an intense sibling relationship that stays with him as he heads off into an equally troubled larger world.
Collected Stories by Roald Dahl(PR 6054 A35 A6 2006)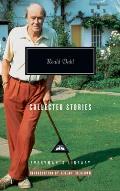 Straight from the man who brought you Charlie and the Chocolate factory, The BFG, and many more, comes a collection of adult stories to tickle anyone's fancy. Filled with devilish plot twists, his tales display a tantalizing blend of macabre humor and the absurdly grotesque. From "The Landlady," about an unusual boardinghouse that features a small but very permanent clientele, to "Pig," a brutally funny look at vegetarianism, to "Man from the South," in which a fanatical gambler does his betting with hammer, nails, and a butcher's knife, Dahl's creations amuse and shock us in equal measure, gleefully reminding us of what might lurk beneath the surface of the ordinary.
The Fellowship of the Ring by J. R. R. Tolkien ( PR 6039 O32 L6 1981 pt.1)
In ancient times the Rings of Power were crafted by the Elven-smiths, and Sauron, the Dark Lord, forged the One Ring, filling it with his own power so that he could rule all others. But the One Ring was taken from him, and though he sought it throughout Middle-earth, it remained lost to him. After many ages it fell into the hands of Bilbo Baggins, as told in The Hobbit. In a sleepy village in the Shire, young Frodo Baggins finds himself faced with an immense task, as his elderly cousin Bilbo entrusts the Ring to his care. Frodo must leave his home and make a perilous journey across Middle-earth to the Cracks of Doom, there to destroy the Ring and foil the Dark Lord in his evil purpose.
If you have a particular novel you're itching to read, search our catalog! If you don't feel like searching, give us a call (227-2250), chat, email, or stop by! All of the desk staff is more than willing to help you find anything you need!